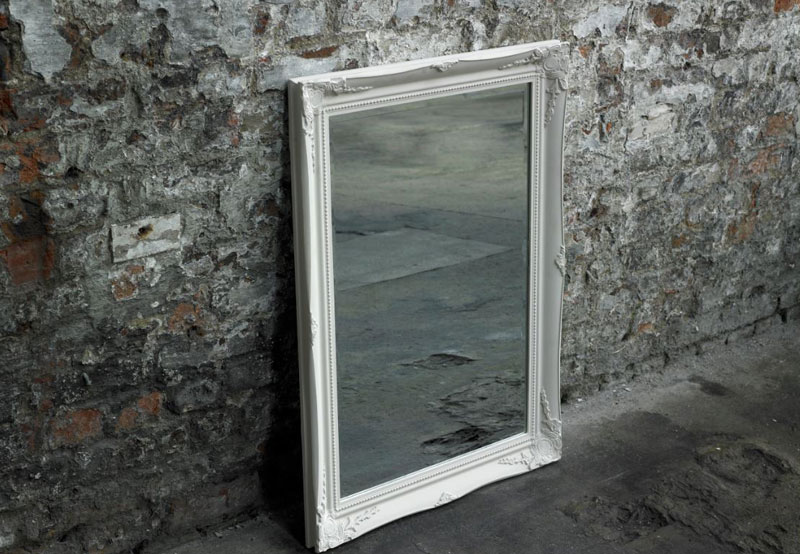 From the paint we use to the technique and colour theme, updating furniture and home accessories provides us with endless possibilities.
However, when it comes to mastering the mirror frame upcycle we're all about making it as simple as possible.
Spray paint is a quick and easy solution when transforming furniture with quirky or intricate designs because you can cover those hard to reach places. With so many colours and textures to choose from in our Universal All Surface Spray Paint range, you can give any mirror a completely new look. It's also super quick to do!
For most frames, you can also opt for furniture paint. For the mirror above we used Rust-Oleum Chalky Finish Furniture Paint in Hessian.
Up for the challenge? Follow our how to guide… and once you've mastered that, make sure you come back for more ideas!
Steps
Move your chosen piece to a well-ventilated area and place on top of newspaper or a dust sheet.

As with any painting ensure the surfaces to be painted are clean, dry and free from loose paint, grease and contaminants.

Top Tip! Previously painted surfaces should be abraded to provide a paint-friendly surface. Inspect the paintwork – if it is flaking or cracked, use a wire brush before sanding.

Wipe down the surface with a damp cloth to remove any loose dust and dry off fully before priming.

Mask off any areas of the object not to be painted to make sure you get a clean, tidy edge.

Spray Paint: If you are using Universal Spray Paint, give it a good shake to ensure it is thoroughly mixed. Using your selected colour, hold the can approximately 30cm from the surface of the mirror frame and spray in a steady back and forth motion, slightly overlapping with each stroke.

Wait one hour until the first coat is dry before applying another coat to deepen and even the shade.

Chalky Finish Furniture Paint: Apply two thin coats of Rust-Oleum Chalky Finish Furniture Paint using a back and forth motion, slightly overlapping the strokes to avoid joining lines. Remember to leave four hours between coats to ensure a smooth finish.

If you've opted for Rust-Oleum Chalky Finish Furniture Paint, seal the paintwork with Rust-Oleum Furniture Finishing Wax in clear (or dark depending on your desired look).

To do this all you need is either a clean cloth or a small brush. Apply a small amount of the wax and apply in a circular motion for a long-lasting protective sheen.