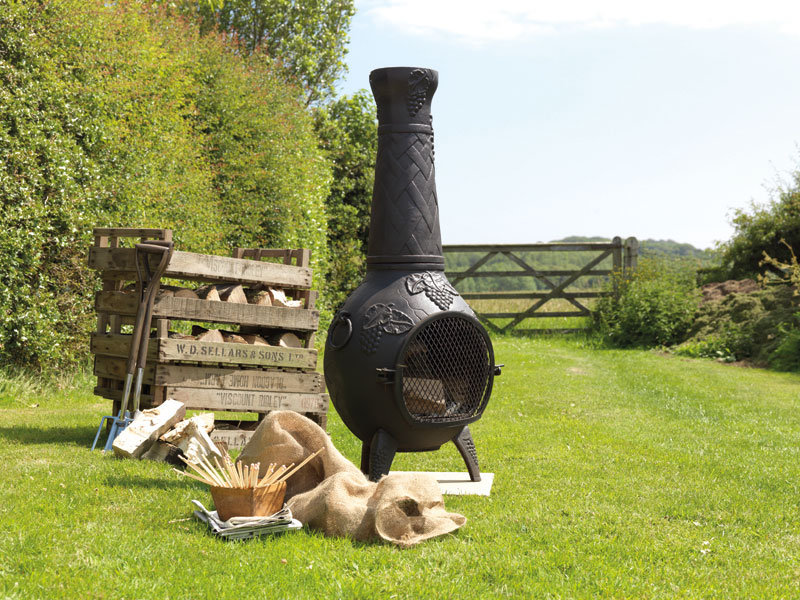 A chiminea can make evenings spent outdoors during the summer months last longer by keeping things cosy once the sun has set.  
After some time, their appearance can become a little worn and rusted. But don't worry, there is no need to replace yours year after year. They can be easily repainted and protected with Rust-Oleum Stove & BBQ Spray Paint.
This quick-drying, ultra-tough, heat-resistant finish is specifically designed for stoves, BBQs and other metal items that generate heat. It offers exceptional colour retention and works at extremely high temperatures, up to 650°C.
Ready to give your chiminea a new lick of paint? Read on…
Steps
Move the chiminea to a well-ventilated area and place on top of newspaper or a dust sheet.

Ensure surfaces to be painted are free from loose paint, rust, wax, oil and grease (well-used chimineas are usually covered in soot so be sure to remove all the residue before painting). To do this abrade the surface with sandpaper or a sanding block and wipe down with a damp cloth to remove any dust.

Using your selected colour, hold the can approximately 30cm from the surface of the chiminea and spray in a steady back and forth motion, slightly overlapping with each stroke.

For best results whilst spraying keep the can the same distance from the surface and in motion, applying several light coats a few minutes apart.

For our chiminea we used Rust-Oleum Stove & BBQ Paint in black but it is also available in green and silver.